Biography
---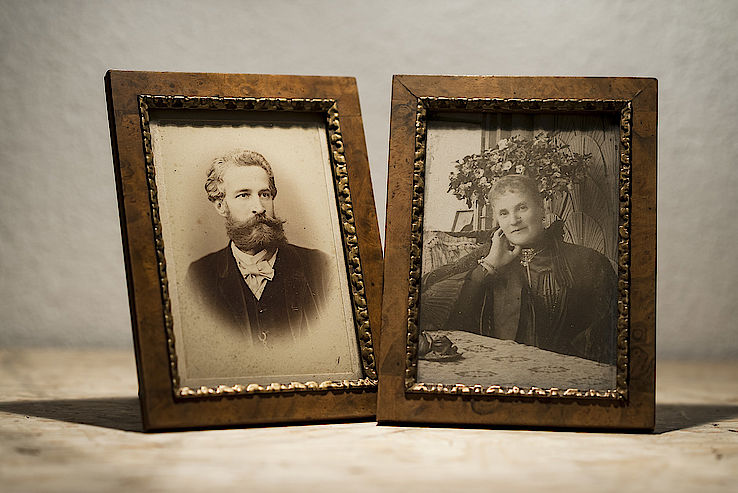 The grandparents of Marie-Louise von Franz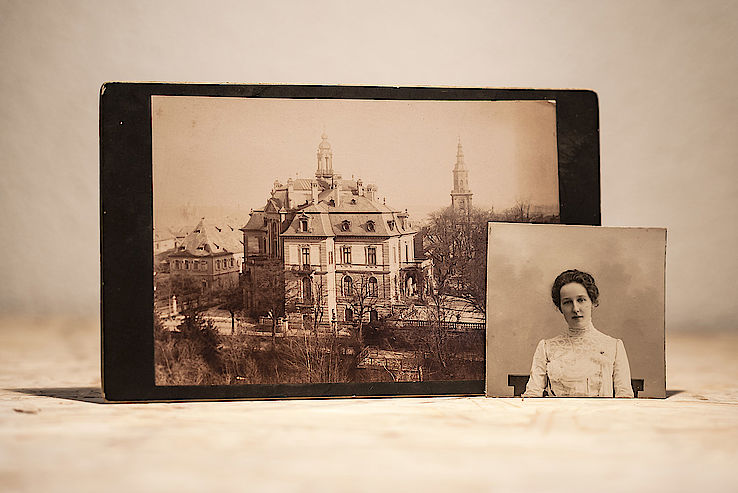 The residence of Marie-Louise von Franz's grandparents in Worms (Germany)/ Margret Schoen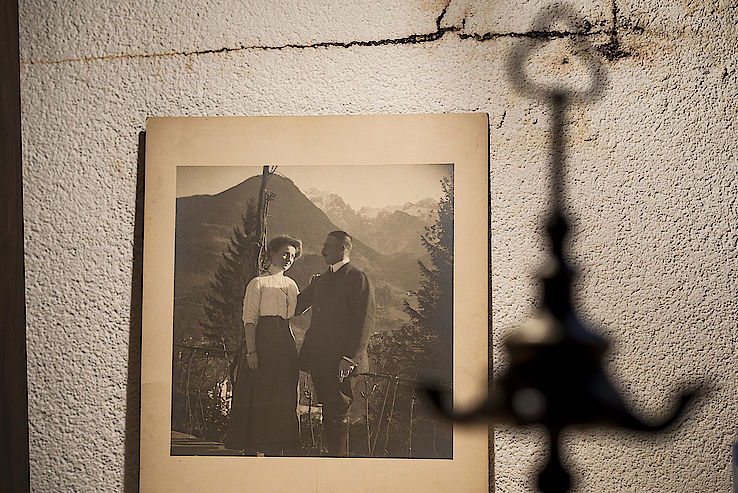 Marie-Louise von Franz's parents – Erwin and Margret von Franz- Schoen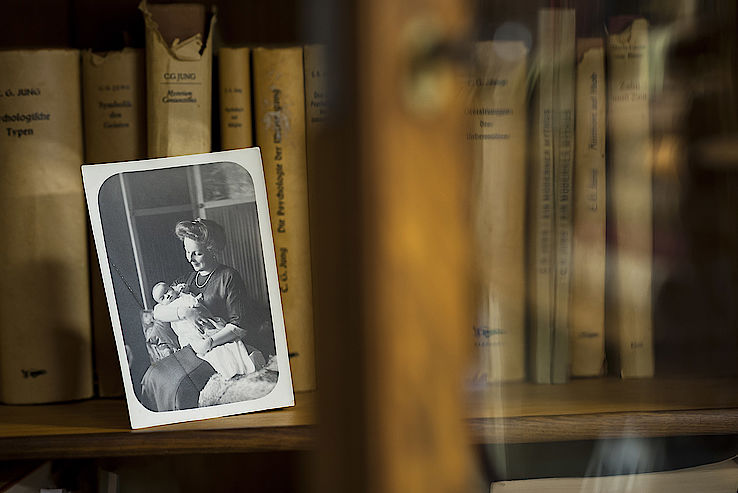 Marie-Louise with her mother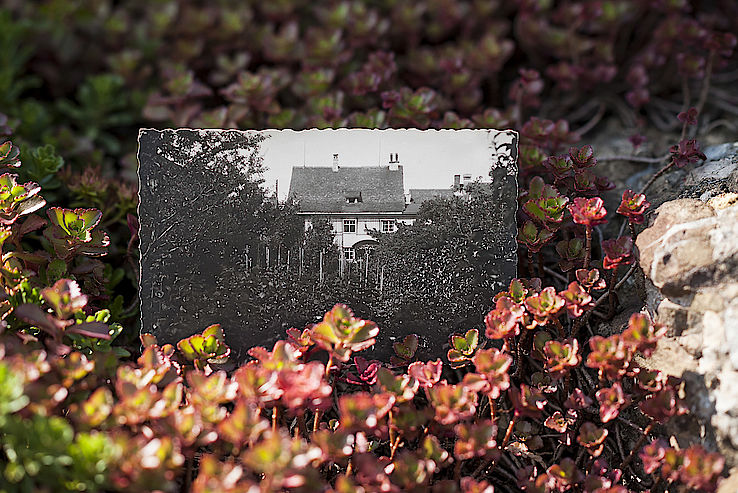 Family home in Rheineck (St. Gall, Switzerland)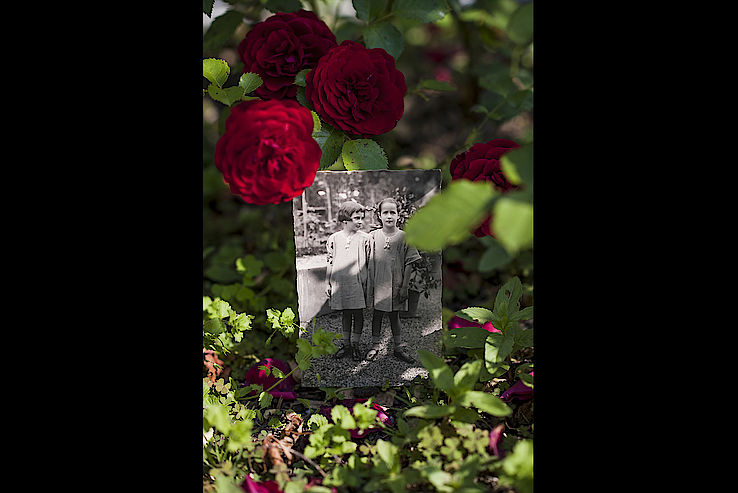 Marie-Louise with her sister Marie-Anne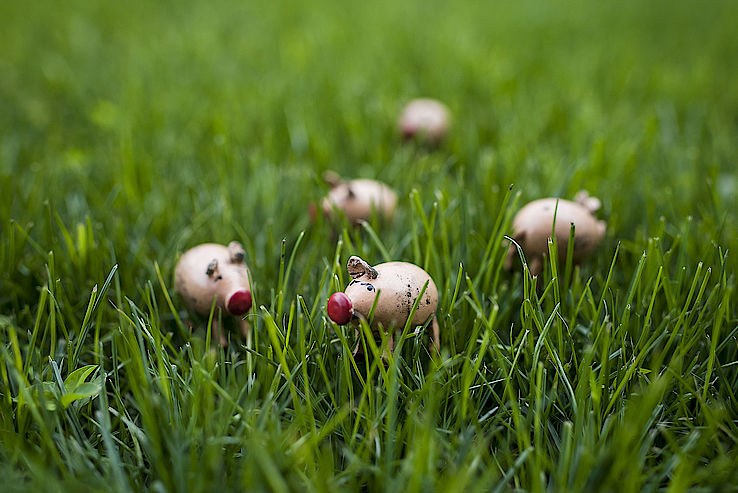 Toys from the young Marie-Louise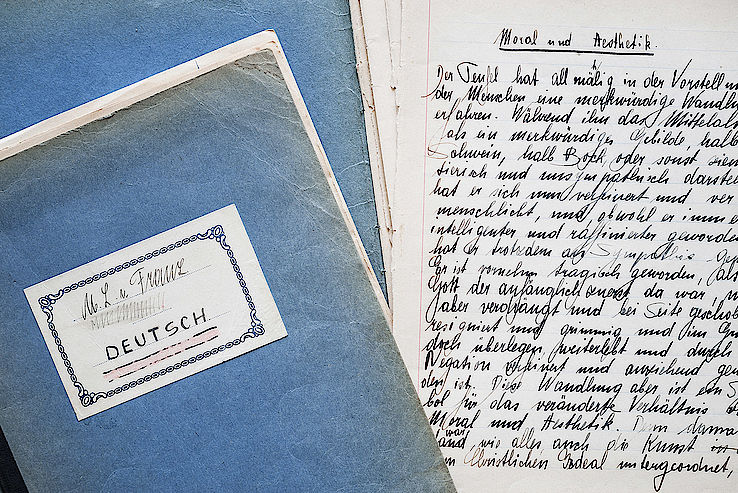 Essay workbook from her high school days
Marie-Louise hiking in the mountains (Berchtesgaden, around 1932)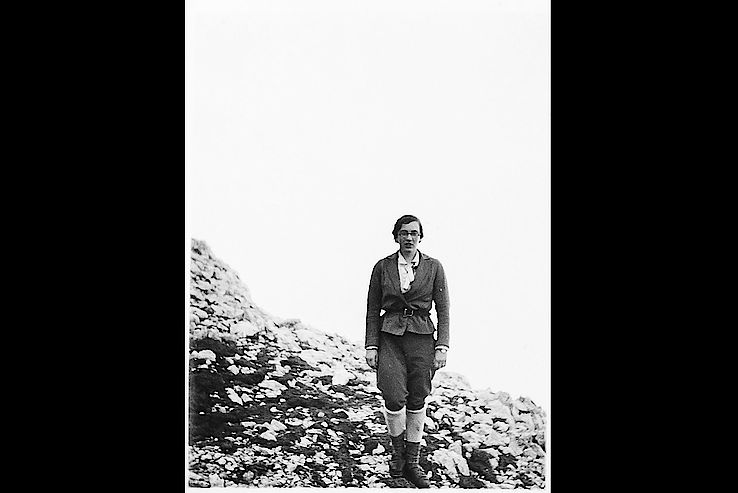 Marie-Louise hiking in the mountains (Berchtesgaden, around 1932)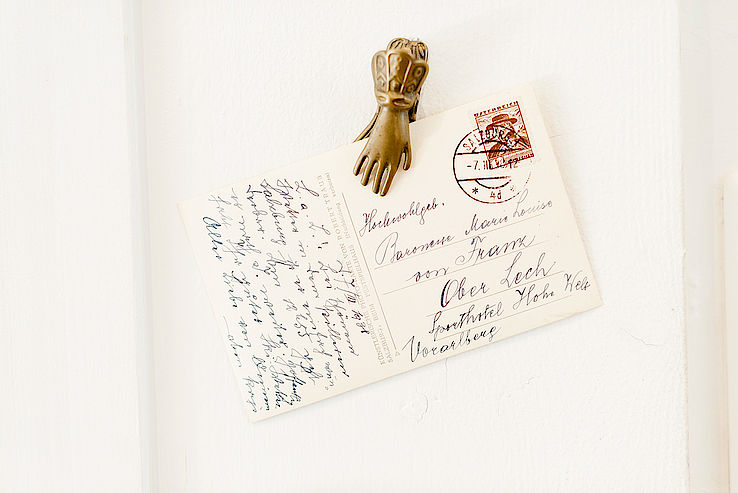 Postcard: "Noble-born Baroness Marie-Louise von Franz" (1938)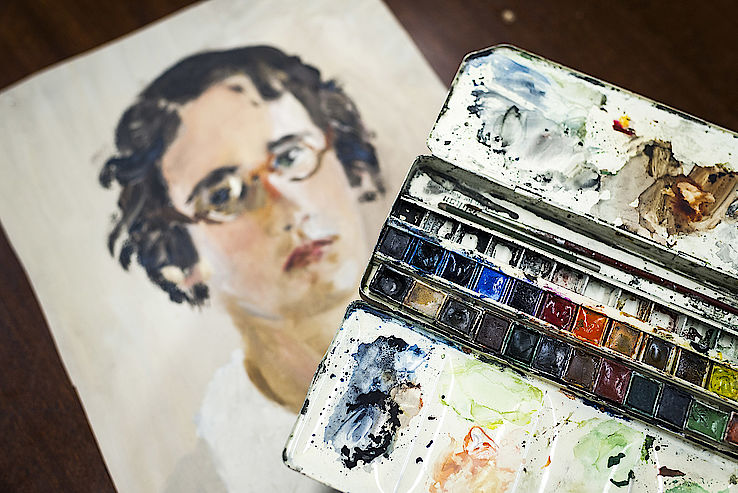 Self-portrait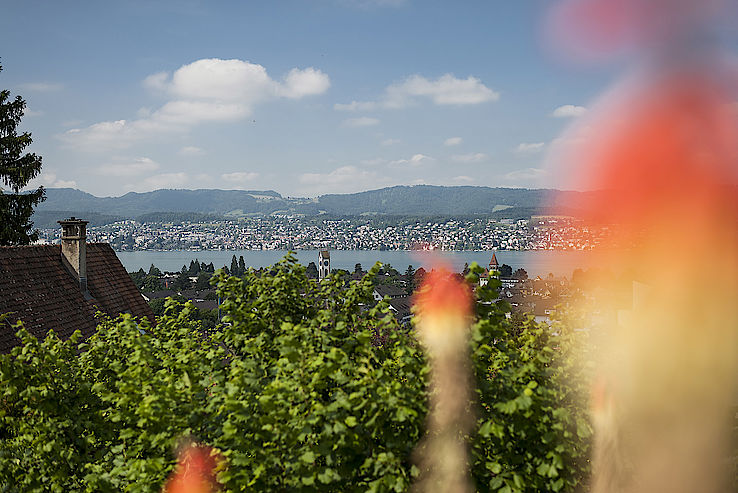 View from her house in Küsnacht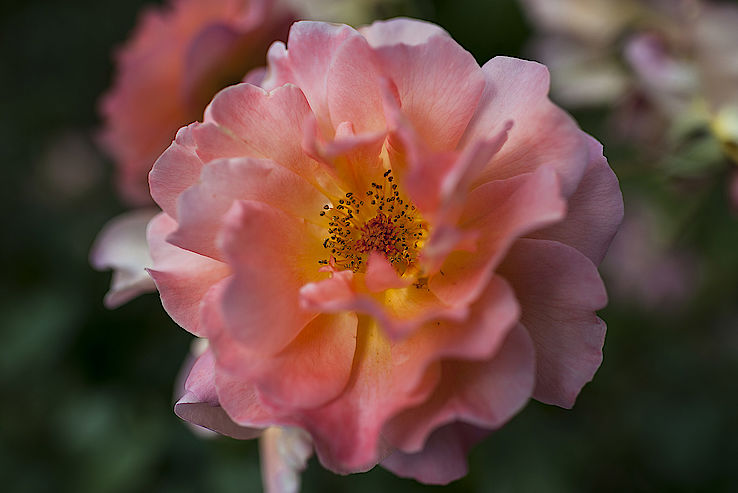 Flowers in her garden in Küsnacht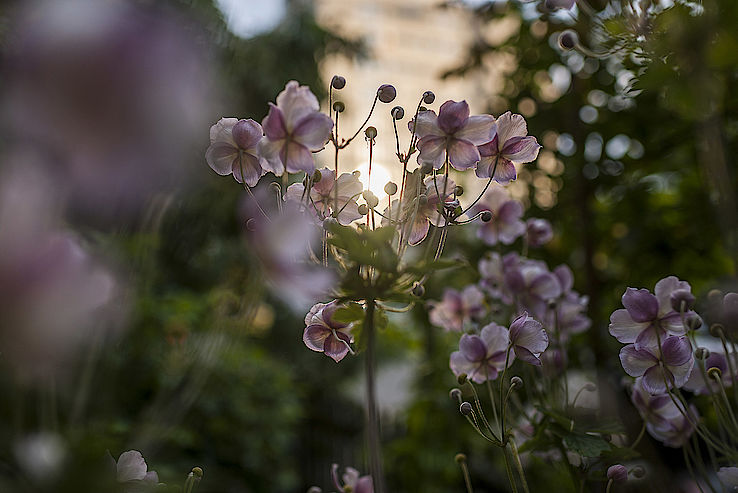 Flowers in her garden in Küsnacht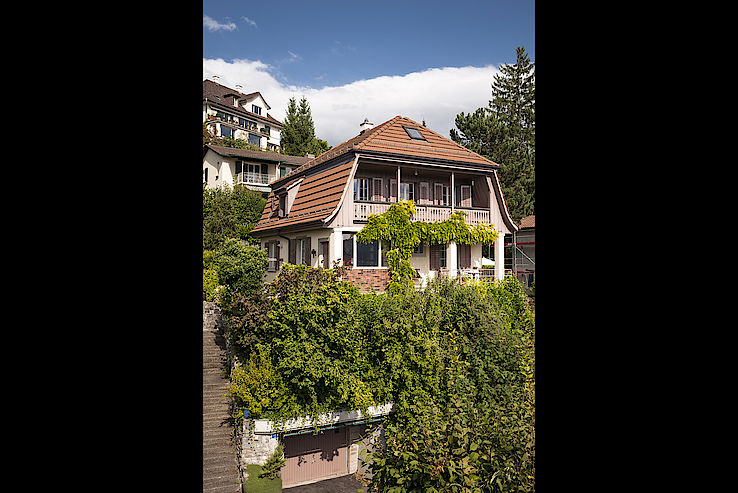 Her home at Lindenbergstrasse 15 in Küsnacht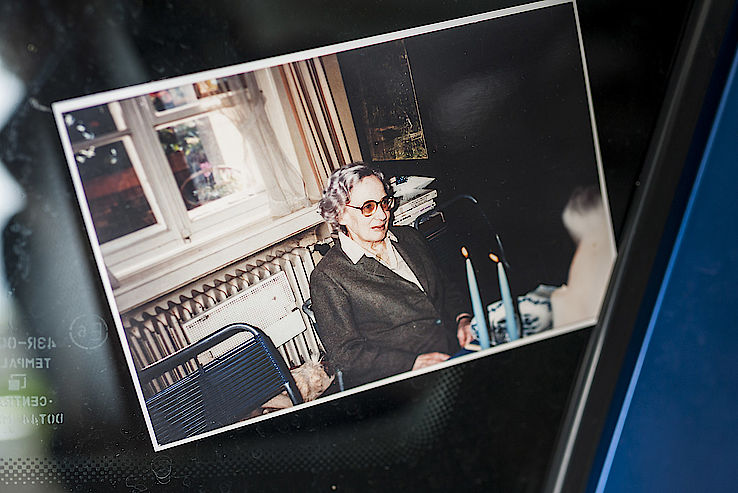 In her home in Küsnacht, 1976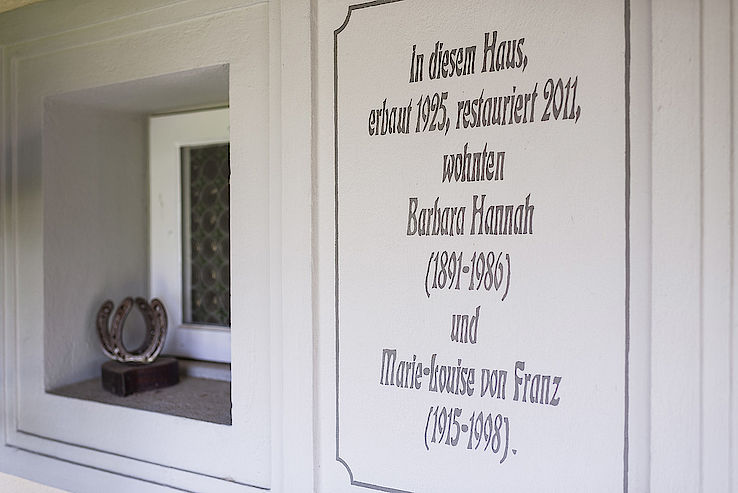 Commemorative inscription on the southern façade of her home in Küsnacht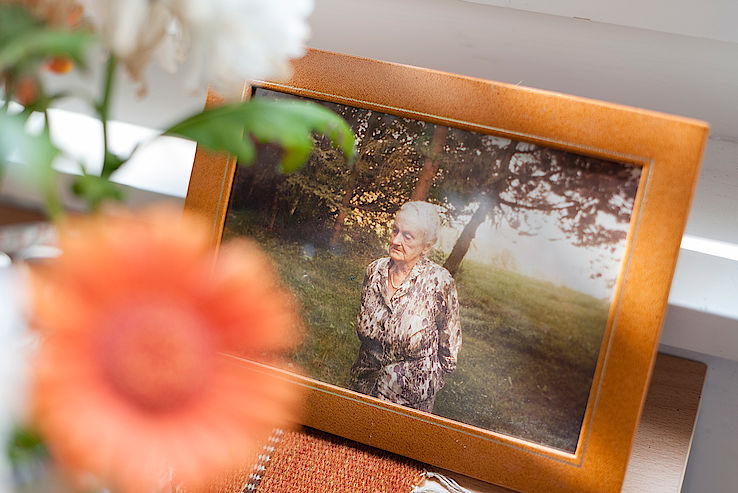 Photo of Barbara Hannah (around 80 years old)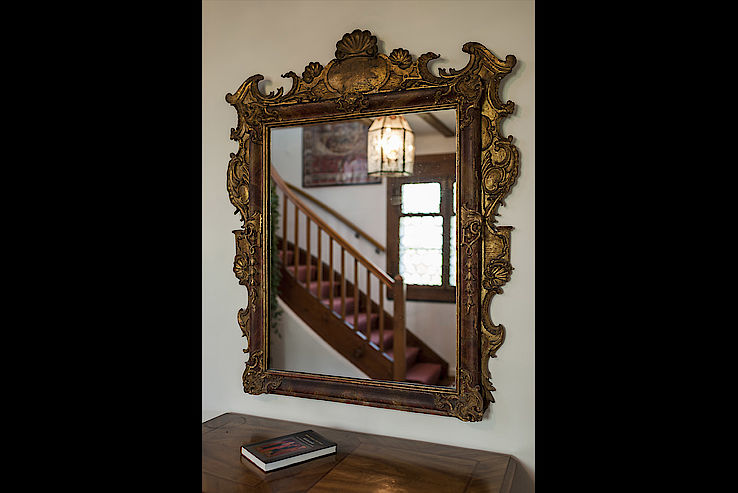 The entry hall of Lindenbergstrasse 15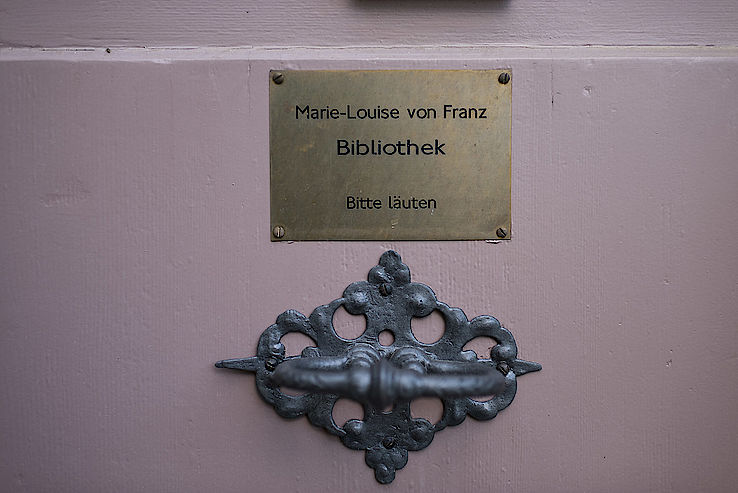 The entrance to the Marie-Louise von Franz Library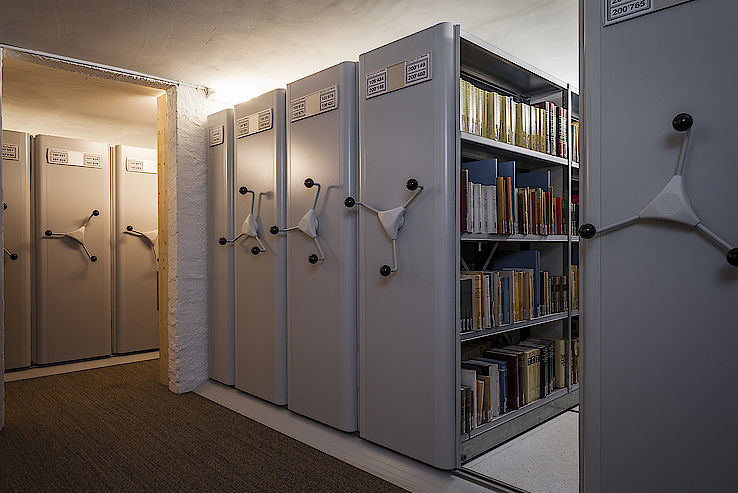 Library Lindenbergstrasse 15
Library Lindenbergstrasse 15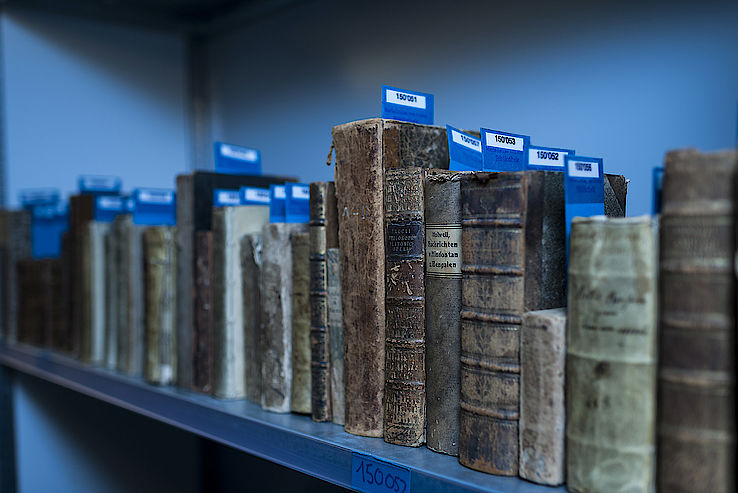 Alchemical books that belonged to Marie-Louise von Franz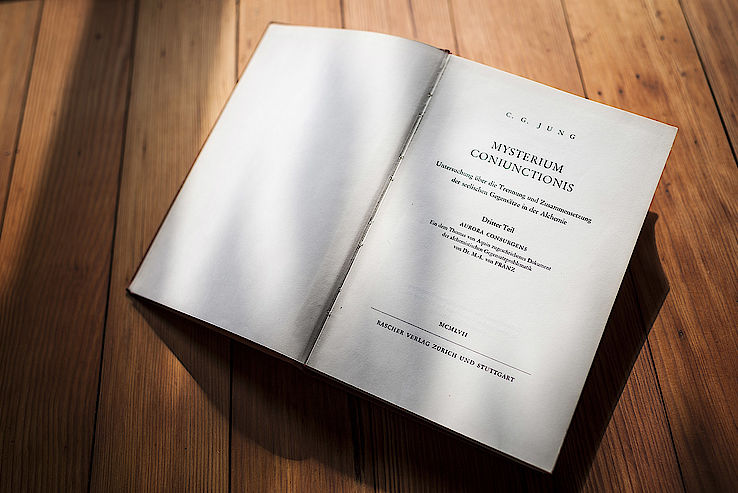 Mysterium Conjunctionis, Vol. 14/III of C. G. Jung in german with the essay of Marie-Louise von Franz about Aurora consurgens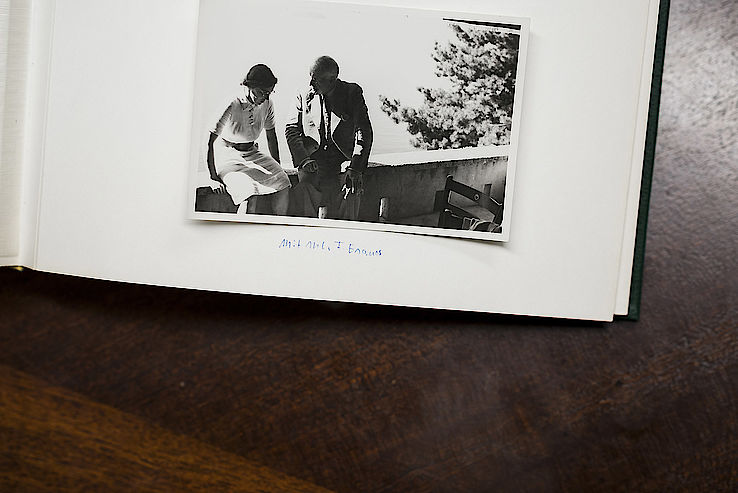 Together with C. G. Jung at Eranos, Ascona (Ticino, Switzerland)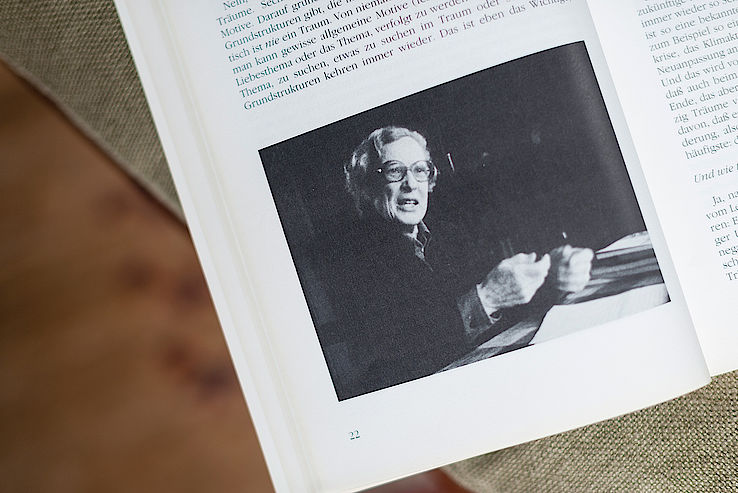 Interview with Marie-Louise von Franz in Bollingen 1982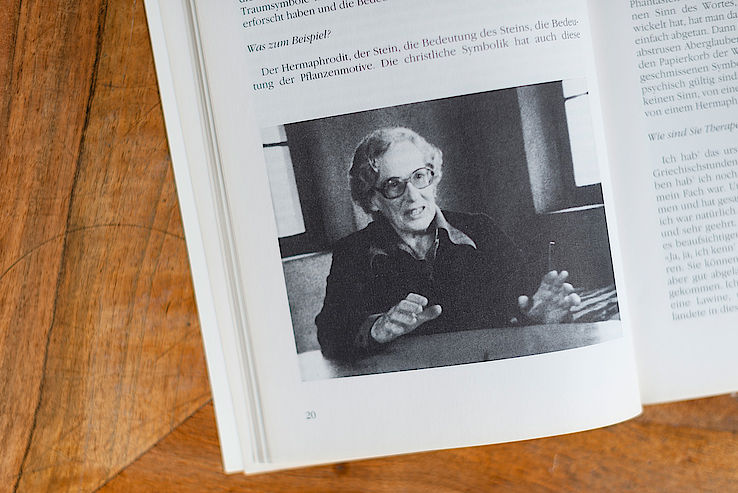 Interview with Marie-Louise von Franz in Bollingen 1982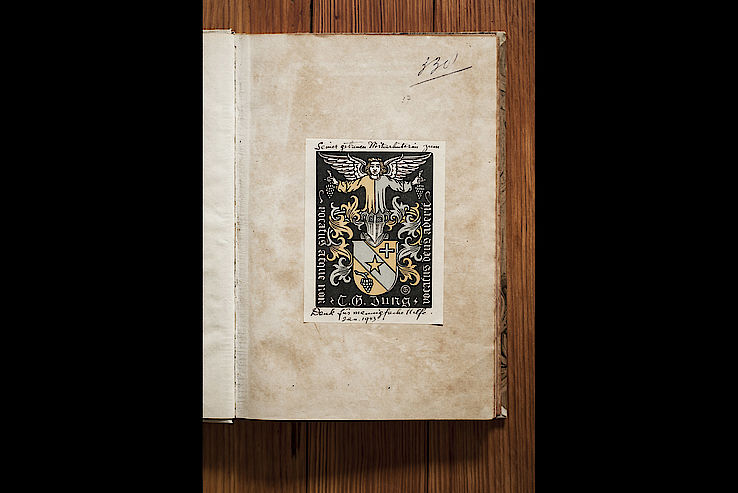 From the library of C. G. Jung with a personal dedication to Marie-Louise von Franz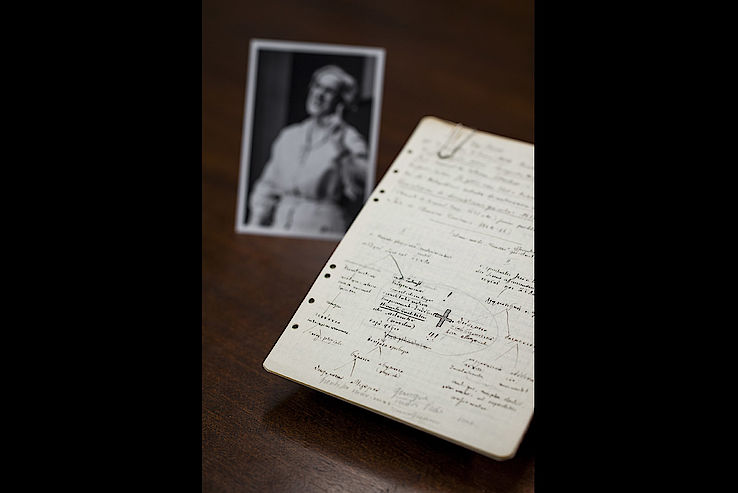 Study notes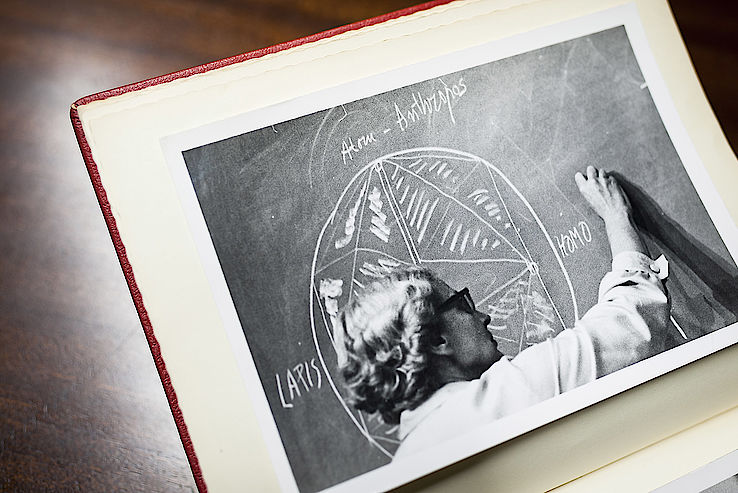 During a lecture at Bailey Island (Maine, USA) 1968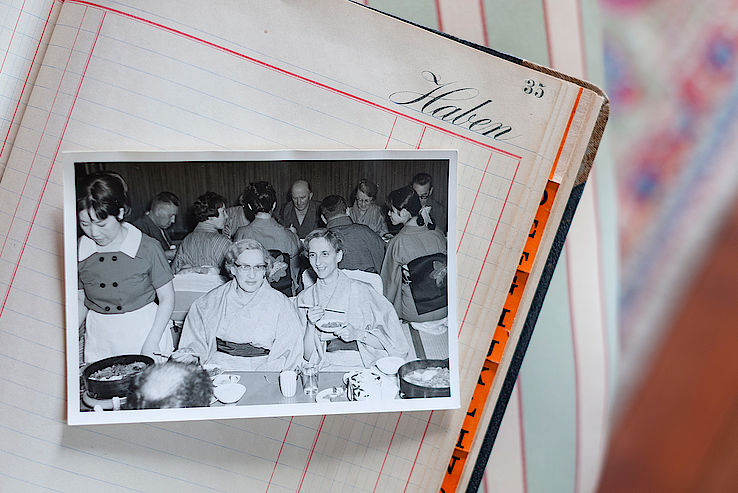 Marie-Louise von Franz during her trip to Asia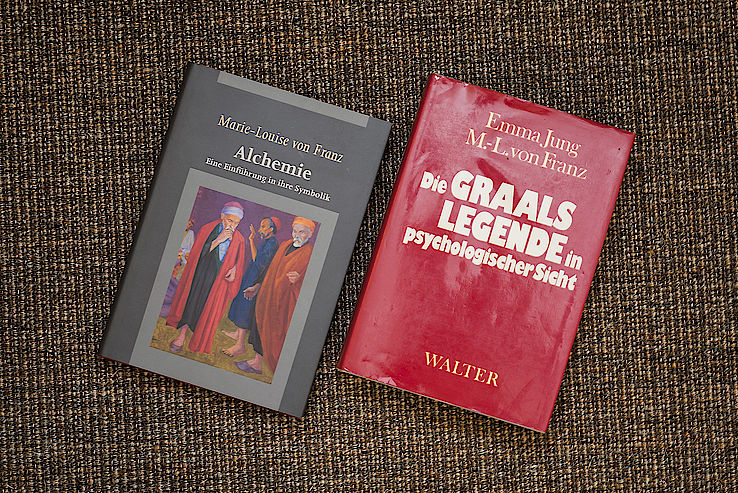 A book by Marie-Louise von Franz and a book written together with Emma Jung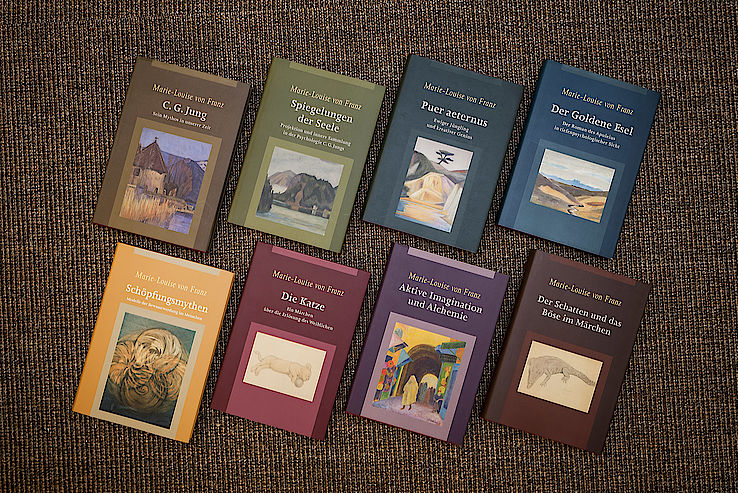 New editions of books by Marie-Louise von Franz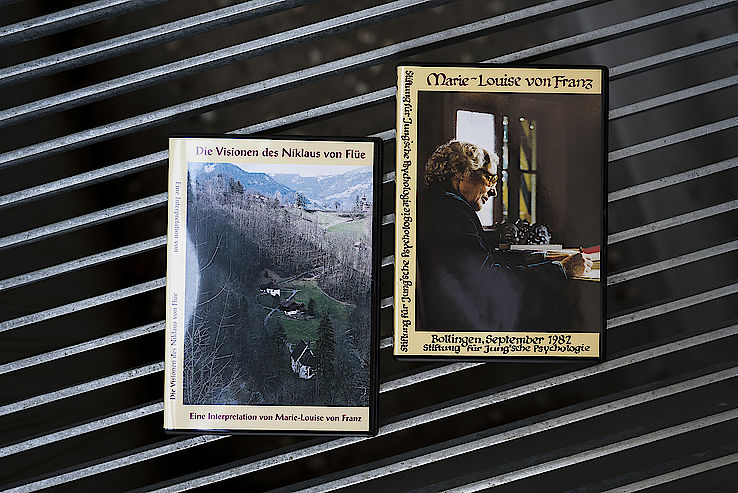 Marie-Louise von Franz in two interviews (DVD)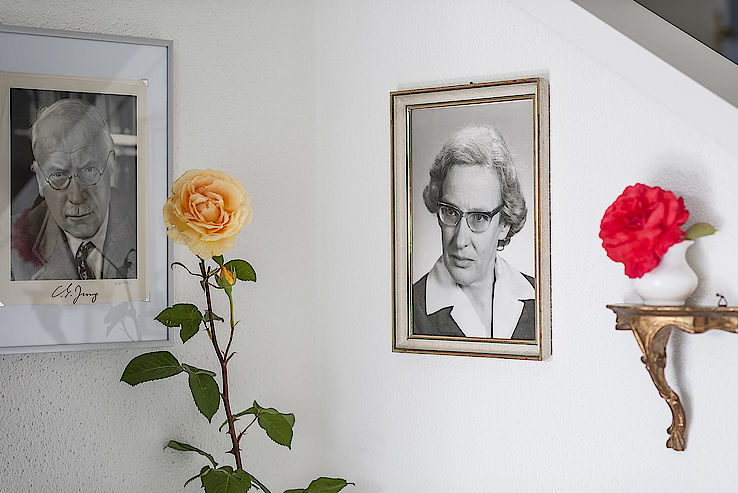 Marie-Louise von Franz and Carl Gustav Jung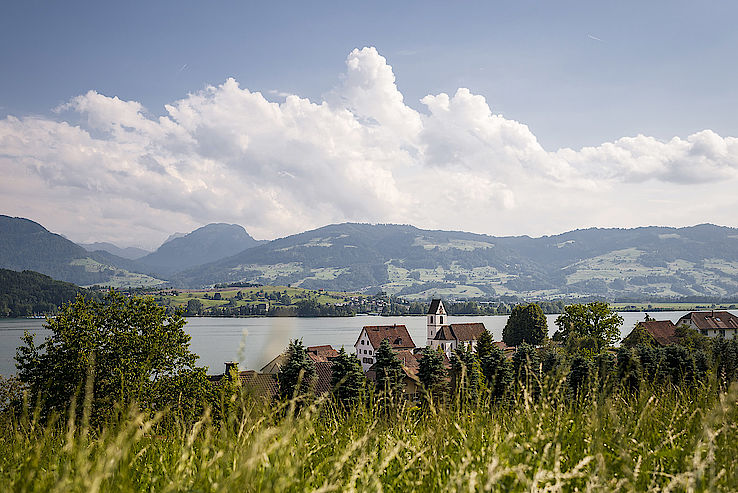 Bollingen on the upper lake of Zurich (St. Gall, Switzerland)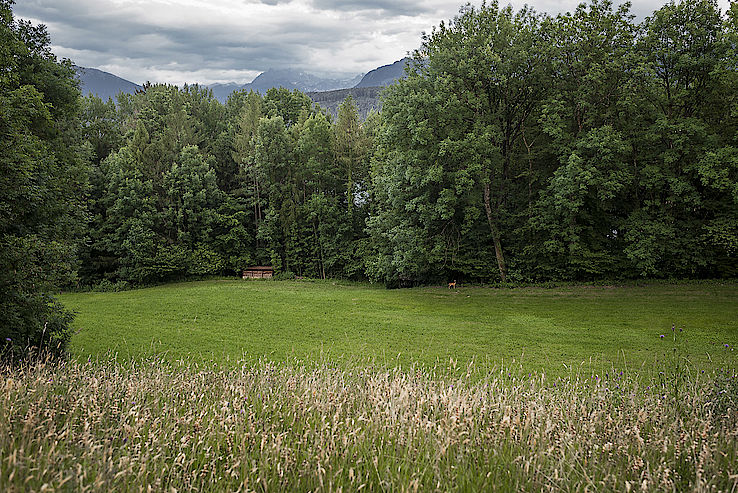 The view from the tower at Bollingen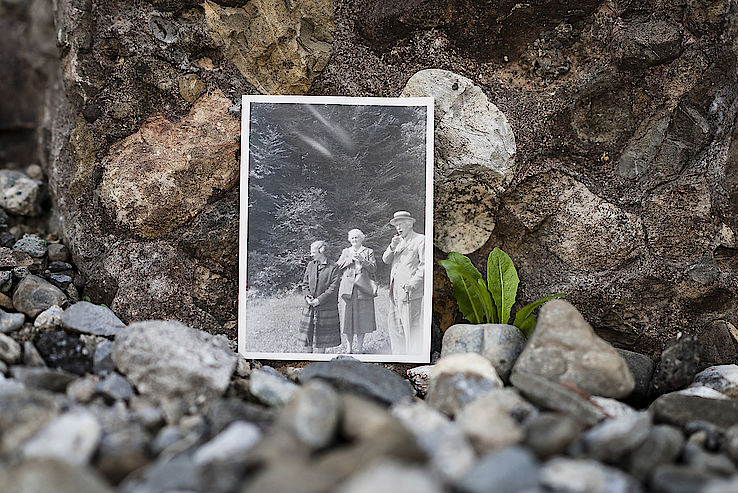 Marie-Louise von Franz together with Barbara Hannah and C. G. Jung (from left to right) in Bollingen, where she would later build her own tower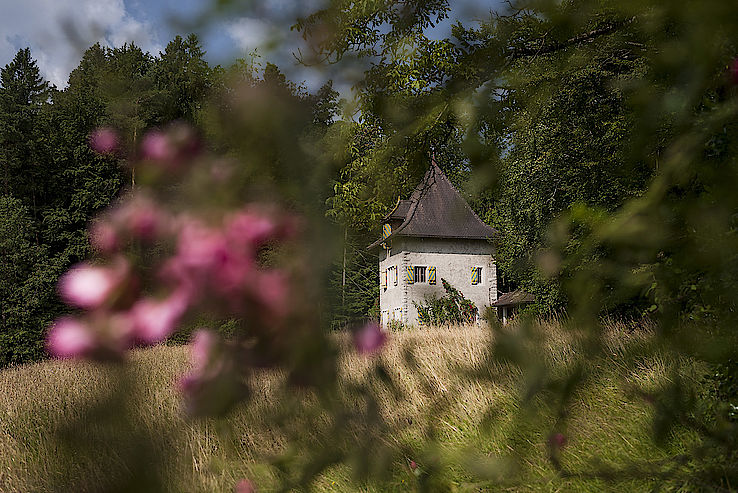 The tower in Bollingen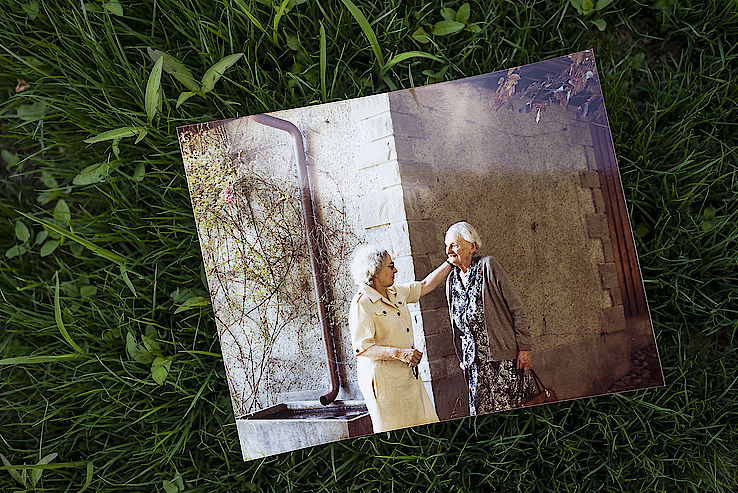 With Barbara Hannah at the tower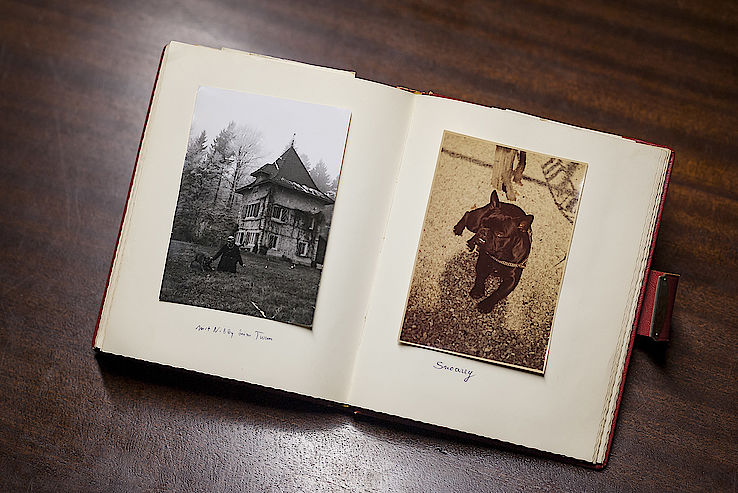 Von Franz at the tower with Snorry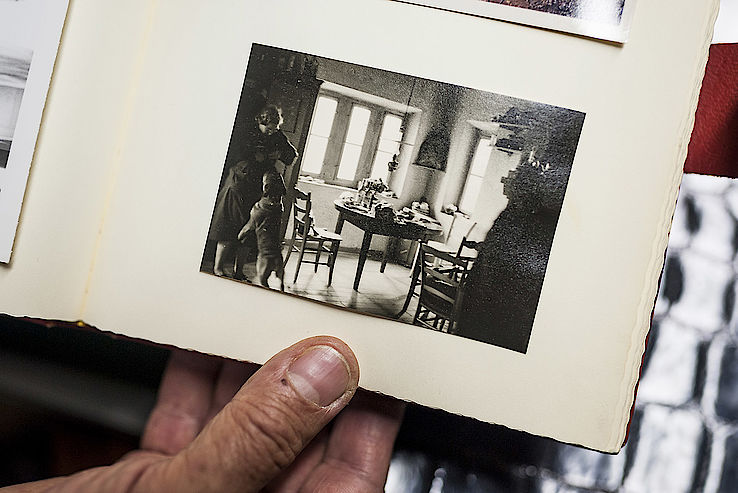 Von Franz at the tower with Nibby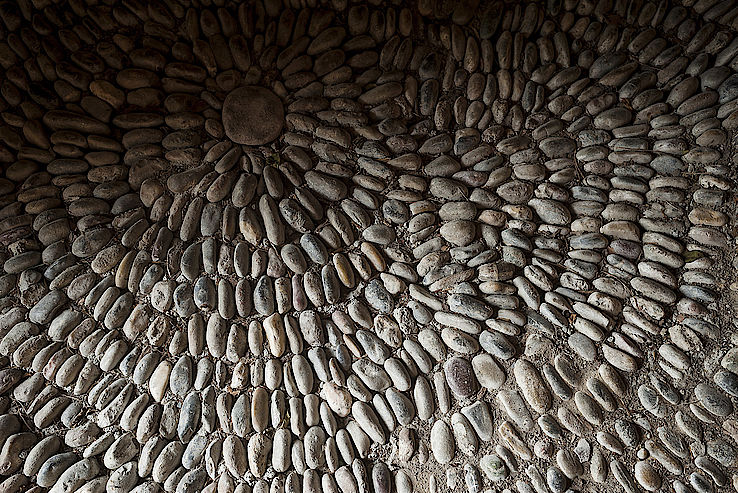 Stone pattern in the tower at Bollingen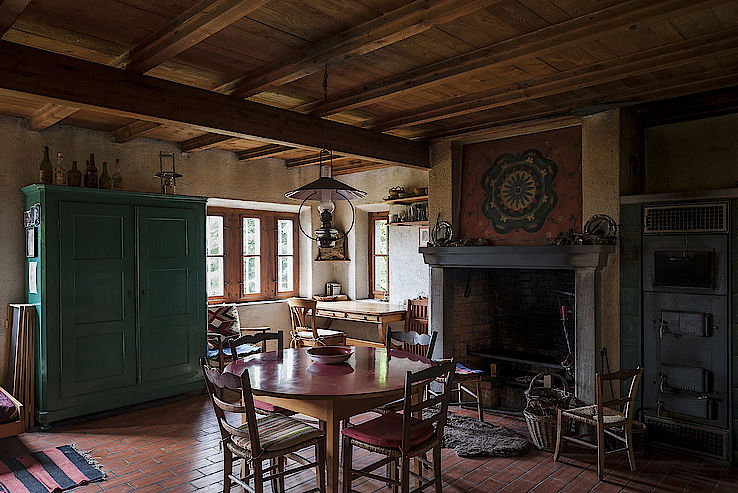 The kitchen in the tower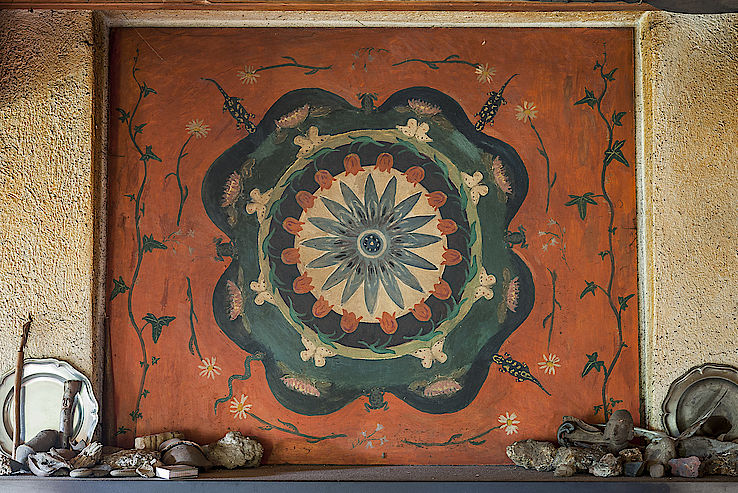 Mandala over the fireplace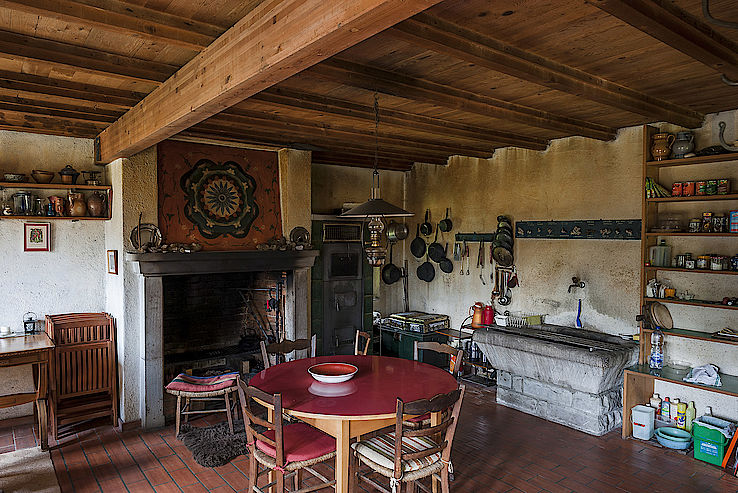 Inside view of the kitchen (fireplace)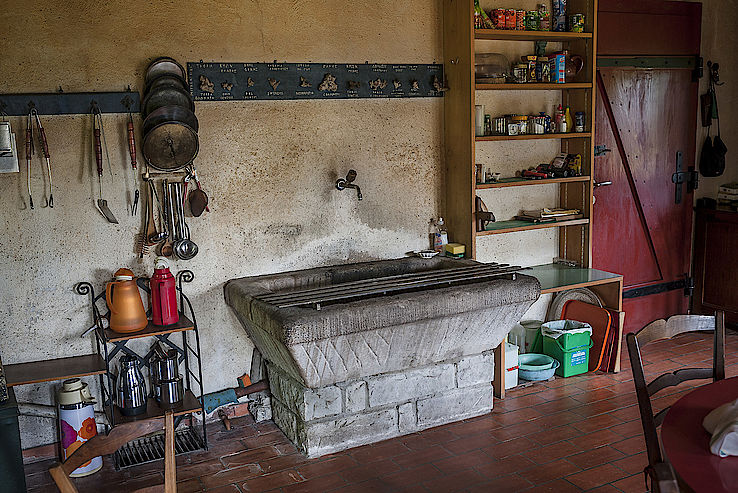 Inside view of the kitchen (trough)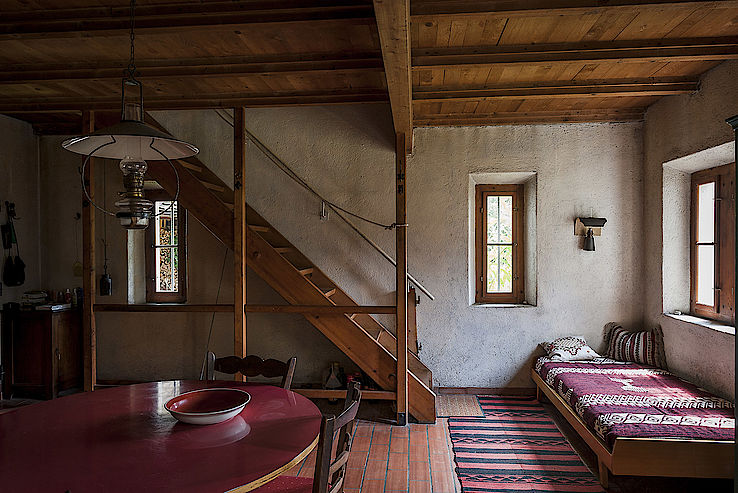 Stairs leading upstairs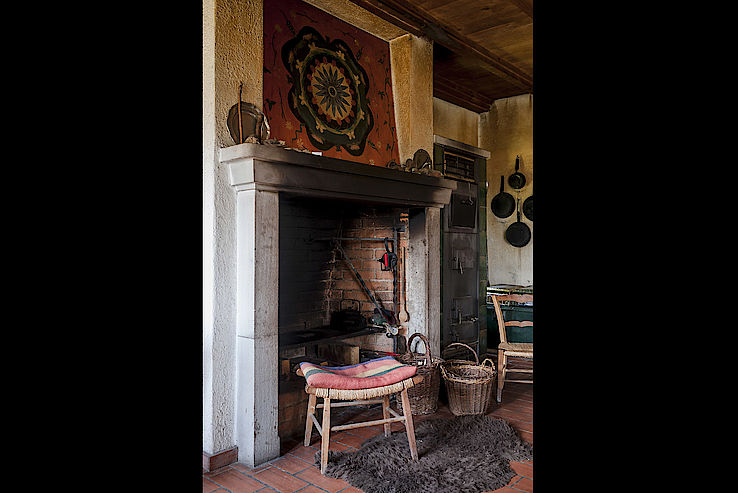 Fireplace in the kitchen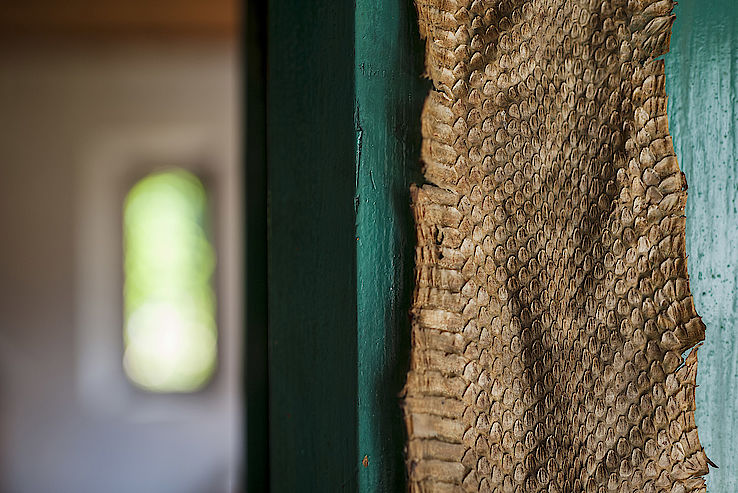 Snakeskin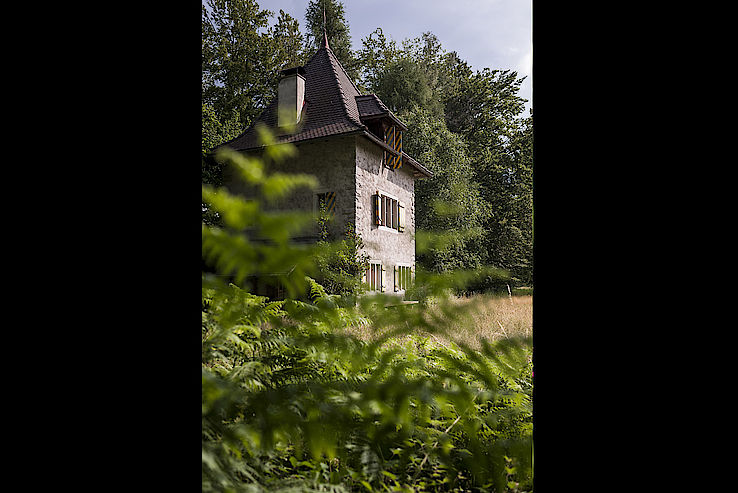 The tower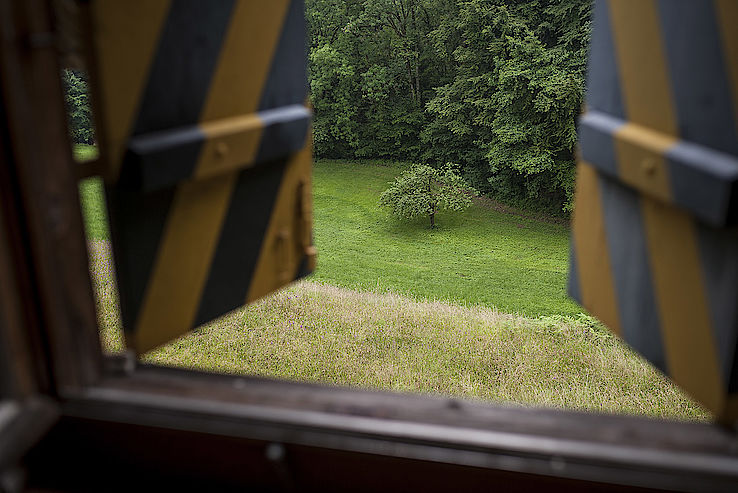 View from the tower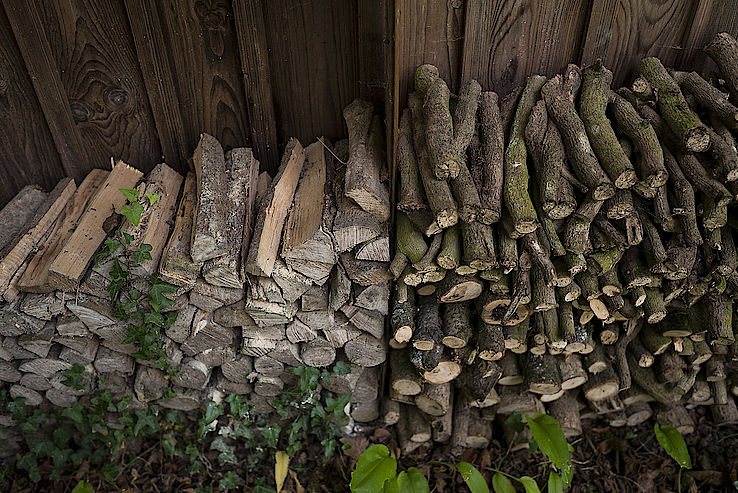 Firewood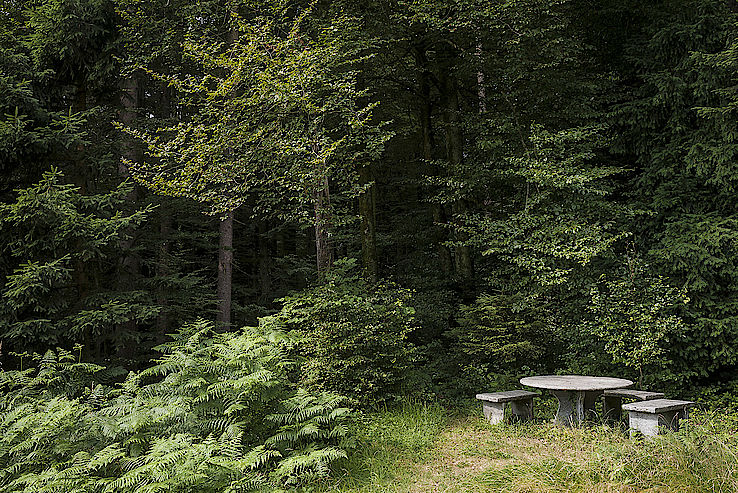 Loggia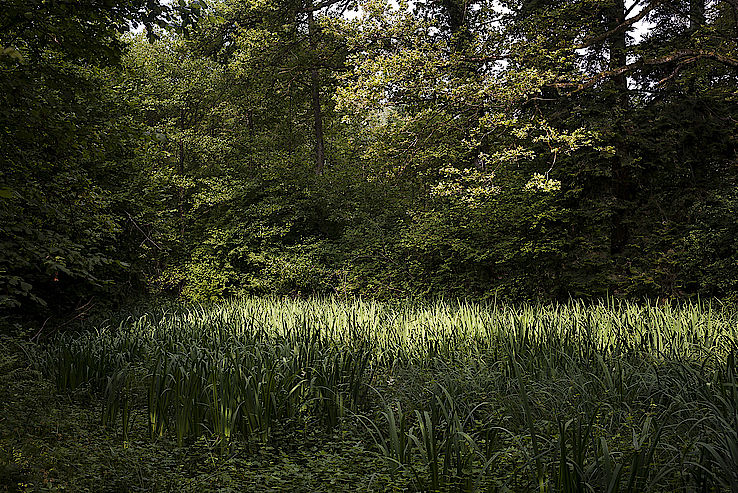 The pond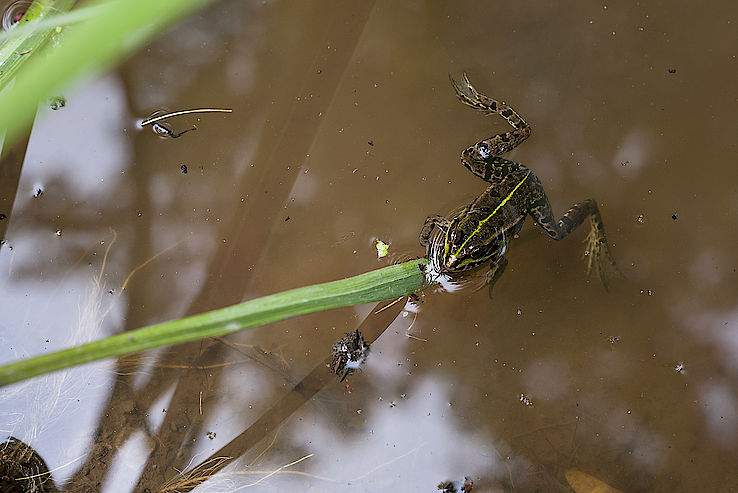 A frog in the pond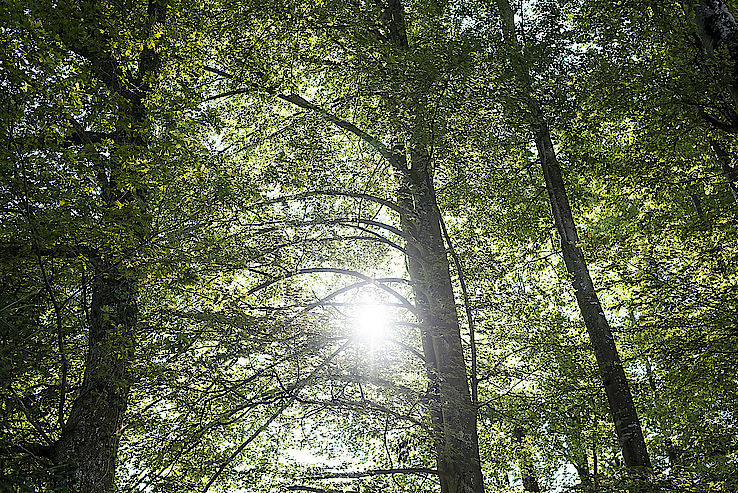 The woods behind the pond
Sils Maria in the Engadine, a favourite holiday resort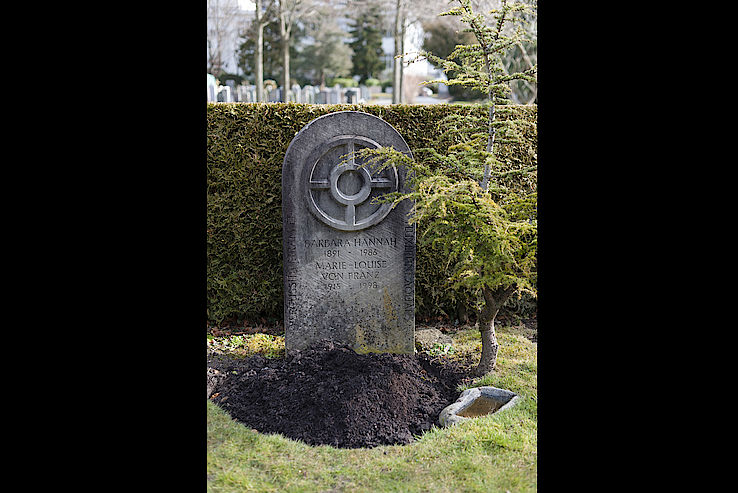 Gravestone of Barbara Hannah and Marie-Louise von Franz in the cemetery in Küsnacht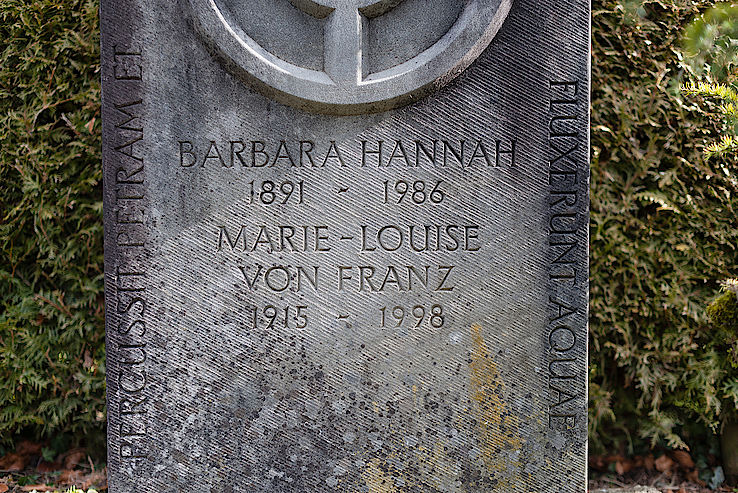 A close-up of part of the inscription on the gravestone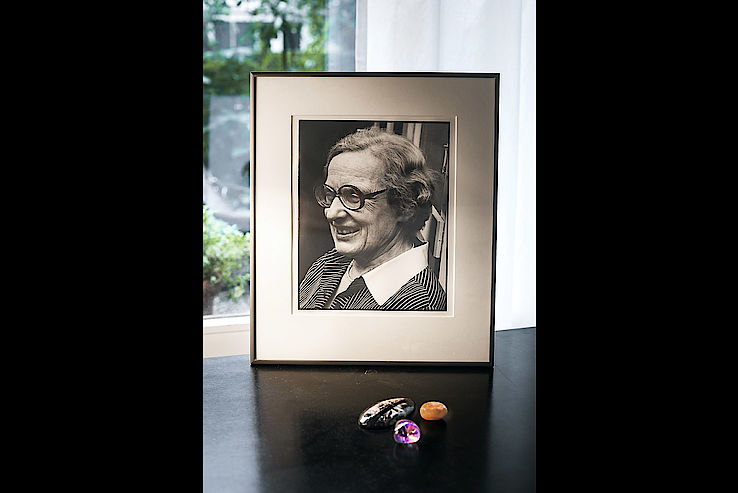 Marie-Louise von Franz around 1970
1915 January 4th:
Marie-Louise von Franz was born in Munich to Baron Erwin Gottfried von Franz (1876-1944) and Margret, née Schoen (1883-1962). Her father was Austrian, the mother German by birth.
1919
The family moves to Rheineck in the canton of St. Gallen, Switzerland.
1921-1928
Primary school in Rheineck.
1928-1933
Freies Gymnasium in Zurich.
1931
The family moves to Dolderstrasse 107, Zurich, where her father had purchased a villa.
1933
During the summer she meets C. G. Jung in Bollingen. She is eighteen years old.
In the fall she begins her studies at the University of Zurich, where she majors in classical philology, Latin and Greek and minors in literature, and ancient history.
1933-1935
She attends C. G. Jung's lectures on modern psychology, on basic psychological concepts and his psychological seminar at the ETH (Eidgenössische Technische Hochschule, or Swiss Federal Institute of Technology) in Zurich.
1934
She begins analysis with C. G. Jung.
1935
She launches her work on the symbolism of fairy tales (Symbolik des Märchens) which she was to continue for nine years.
1936
The ETH in Zurich grants her a scholarship of SFr. 500.00 for symbolic historical research. Prof. C. G. Jung sponsors this application.
1936-1937
She attends C. G. Jung's psychological seminar and his lectures on the association experiment and on modern psychology.
1937
She participates for the first time in the Eranos Conference, Ascona, Switzerland.
1938-1939
She attends C. G. Jung's lectures on the introduction to the psychology of the unconscious and his psychological seminar.
1939
She receives Swiss citizenship and becomes a citizen of Zurich.
1940
She receives her Ph. D. in classical philology magna cum laude; thesis title: "Die ästhetische Anschauung der Iliasscholien" ("The Aesthetic Opinions in the Iliad Scholia"). Prof. Dr. Ernst Howald, her thesis advisor, writes: "Summa diligentia et magna sagacitate conscripta".
1941
She becomes an associate member of the Psychological Club of Zurich. Marie-Louise von Franz gave the majority of her lectures at the Psychological Club of Zurich and the C. G. Jung Institute in Küsnacht, Zurich.
ca. 1942 After a discussion with C. G. Jung she begins to see her first analysands.
1944
She becomes a member of the Psychological Club of Zurich, and serves for several years as its librarian. C. G. Jung himself was for many years member of the library committee.
1944
Her father dies in Zurich. One year later her Mother sells their house and moves into an apartment and Marie-Louise von Franz rents a small room in Zurich.
1946
She moves to a small apartment in Küsnacht (Canton Zurich) along with Barbara Hannah.
1951
Lectures in La Chaux-de-Fonds, Switzerland.
1953
Trip to the United States of America, staying for three months and also delivering lectures.
1955-1956
Trip to Egypt and Greece.
1956
She becomes a training analyst at the C. G. Jung Institute.
1958
She builds her tower in Bollingen together with Barbara Hannah.
1961
July 6: C. G. Jung dies.
1962
Her mother dies in Zurich.
1963
Journey to Scotland with Barbara Hannah.
1965
She moves with Miss Hannah to Lindenbergstrasse 15 in Küsnacht.
1968
She participates in the second Bailey Island Conference held in honor of Dr. Esther Harding's eightieth birthday and presents her paper "Number Games of the Universe", later published under the title, "Symbols of the Unus Mundus".
She lectures in the United States.
1970
Four-week long journey with Mrs. Ariane Rump to Bangkok (Thailand), Ankor Wat and Phnom Penh (Cambodia), Tokyo, Nikko, Hakone, Nara and Kyoto (Japan), Toba and Bali (Indonesia), British Hong Kong (China) and Singapore.
1971-1981
She lectures in: Bremen, Elmau and Herrenalb, Baden-Baden (Germany), Montreal (Canada), Panarion (USA), Lindau and Graz (Austria), Rome (Italy), Paris (France).
1974 April 26th
She founds together with four friends the Foundation for Jungian Psychology in Küsnacht CH.
www.stiftung-jungsche-psychologie.ch
1984
She takes a two-weeks trip to Florence, Italy.
She lectures in the United States, and, at the ETH, delivers the lecture: "Archetypal Experience Surrounding Death".
1985
For the last time she attends the Eranos Conference in Ascona. She delivers the lecture: "Nike and the Waters of the Styx".
From this point on, she begins to lead a more introverted life in her house in Küsnacht and retreats ever more frequently to her tower in Bollingen, where she spends up to five months a year. She continues to see friends and analysands from all over the world and dedicates herself to her creative work, focusing especially on Arabic alchemy.
1986
She lectures in Garmisch-Partenkirchen, Germany on a congress dealing with the space-time-problem: "Some Historical Aspects of C. G. Jung's synchronicity Hypothesis". Participants in the conference include Carl Friedrich von Weizsäcker, His Holiness The Dalai Lama, Joseph Needham, Raimon Pannikar, and Chungliang Al Huang.
September 4th:
Barbara Hannah dies.
November 25th:
She delivers her last public lecture: "C. G. Jung's Rehabilitation of the Feeling Function in our Contemporary Civilization" in Küsnacht.
1990 til her death
She writes a manuscript, witch was published postum: Muhammad Ibn Umail's Hall Ar-Rumuz/ Clearing of Enigmas: Historical Introduction and Psychological Comment (Editor Theodor Abt), Fotorotar AG 1999.
1994
Marie-Louise von Franz is the guiding spirit of the newly-founded "Research and Training Centre in Depth Psychology according to C. G. Jung and Marie-Louise von Franz", Zurich, and is its Honorary President.
1998 February 17:
Marie-Louise von Franz dies in her 83th year in her home in Küsnacht.
---